Remember when I won that beautiful new stroller? Well, it finally came yesterday and let me tell you… WOW! This thing makes the other stroller we own look like the piece of garbage it is shortly to become. I have never seen a high-end stroller up close before and boy, you can really tell the difference.

My favorite features? The cushy interior that is so comfy and lush that had my 7 year old begging to try it out.*



The solid construction that makes this thing ride like a tiny little tank; I'm pretty sure it will last until my grandkids need it. Oh, the swivel front wheels that allow us to turn on a dime, a feature that will definitely make departments store shopping so much easier.



My personal favorite is the umbrella holder; a must for every trendy parent who lives in a temperate rainforest.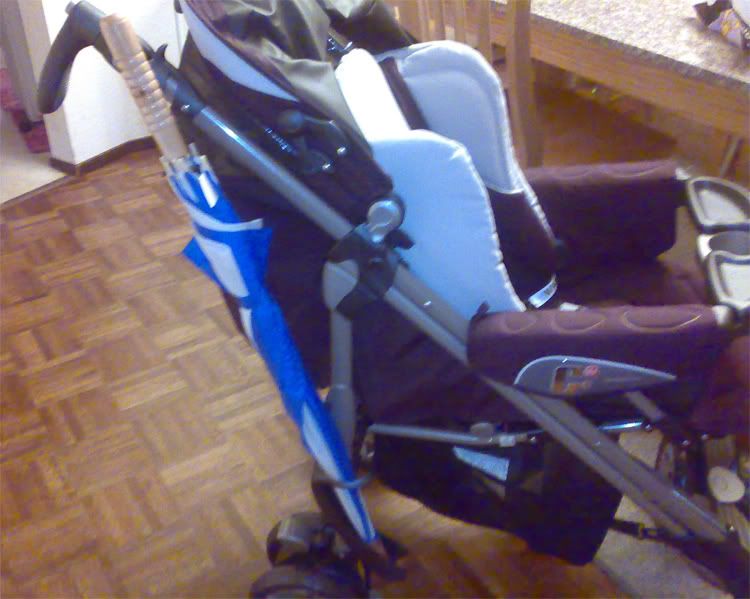 Zman is impressed by the adjustable front-end suspension and the dual locking rear breaks. Yup, just push one and they both lock up tight!



He also likes the light weight aluminum frame, yes indeed a stroller made out of metal instead of plastic, what a concept. He also thinks the 3D folding feature is very cool.



Of course the most important opinion is Smiley's. How do you think he likes it?



I haven't had the courage to take in actually outside yet. The weather here was terrible today, so I think our maiden voyage will be on Halloween. We'll need the space to store all the candy we'll be able to haul in with three kids in tow! Ummmm Candy!

Thanks again Daring Young Mom. We love it!

*sorry for the picture quality, my camera is on the fritz and these were taken with Zman's camera phone.