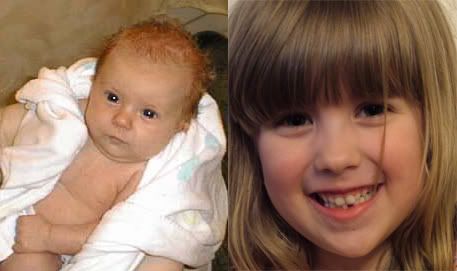 It's hard to believe that 6 years ago tonight I was laboring so hard to bring you into the world. By this time I had already been in labor for 17 hours and was so ready to see your face. We didn't expect things to happen like they did. You're due date was weeks away and we were not expecting you anytime soon.

I woke that sunny morning as I had for the last several months, with an urgent call to the bathroom. I stumbled back to bed and my mountain of pillows, trying to find a comfortable position to sneak in a few more hours of rest. My tossing causing an earthquake in the bed that nearly tossed your daddy on to the floor. He diplomatically said nothing and quietly retreated to the couch to sneak in 15 more minutes until he had to get ready for work.

As I snuggled into my huge body pillow, I felt an unusual pop. My very first though was that my water had broken. Then logic kicked in and I told myself it was just you kicking me very strongly. I tried to get back to sleep because I knew we had a big day ahead of us. Everyone was concerned with your growth and on this day we had an appointment with the OB, a non stress test, an ultrasound, and an appointment with the midwives to look forward to. Your daddy kept telling me that you were perfect and there was nothing to worry about, but I worried anyway; my first true mom worries.

Then I felt it; a trickle. I told myself it was nothing. Then there was more trickling. I decided to haul myself back to the bathroom and check it out. As soon as I stood up, the trickles became a torrent and I rushed to the bathroom in an effort to save the carpet. As I stood in the bathroom, soaking wet, I knew that you would come soon and that our wait was nearly over. I was excited and scared and thrilled, one emotion pilling up on the next.

Hours later, after calls to the midwives, waiting for labor to start, driving to the birth center, and long hard contraction that had to be moaned out, you still would not come. You were so impatient to see the world yet so reluctant to journey into it. It would be hours more before you arrived. Time passed strangely for me in that room with no windows. Sometimes it seemed like I was in labor for years, others just minutes. Then, once you decided to come, you did; so fast that the midwives were barley ready for you.

I remember one moment being in so much pain and my body being completely out of my control and in the next I was holding a tiny pale baby. You were so skinny and small and perfect and beautiful. I couldn't believe you were mine. You looked just like your daddy, except you had my feet and red hair. You never cried, you just looked at everything with your big wondrous eyes and drank it all in. Daddy called you by name for the very first time and welcomed you to our family.

We have watched you grow, learn new things, discover the world. You have made me laugh with joy, cry with frustration, and learn more about the world and myself. You made me a mom and everyday you inspire me to be a better one. You have opened a part of my heart that I never knew was there and now you fill it with so much love that sometimes it's hard to breath.

Thank you my darling for these 6 wonderful, amazing years. I wouldn't have missed this journey for the world. Happy Birthday my love.